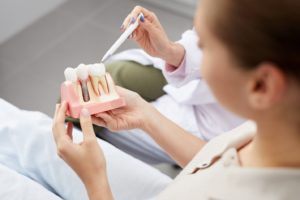 If you are missing one or more teeth, it is important that you fill in the gaps in your mouth. Both your oral health and your facial aesthetics will benefit. But which type of treatment should you choose to replace your lost teeth? Both dental implants and dental bridges are very effective. Is one better than the other? In this blog post, we make a brief comparison of these two restorative options.
What Is a Dental Bridge?
A dental bridge is a multi-unit prosthetic that replaces one or more teeth. It typically consists of two crowns, which get placed on top of the teeth next to the empty space, as well as 1 – 3 pontics (artificial teeth) that "bridge" the gap. Dental bridges can be made out of various materials, including gold, silver, alloys, or porcelain.
What Are Dental Implants?
A dental implant is a prosthetic tooth root. It gets surgically implanted into the jawbone. The surrounding tissues bond with it, thus enabling it to provide a strong base of support for the crown that will eventually get placed on top of it. The crown serves to replace the visible portion of the missing tooth.
What Are the Pros and Cons of Each Option?
Many people opt for a dental bridge because it provides reliable chewing power and prevents the remaining natural teeth from drifting out of place. A bridge can also look quite aesthetically pleasing. However, place this type of prosthetic requires that the abutment teeth (the ones that will support the crowns) be significantly altered. A bridge may last for 10 – 15 years before replacement becomes necessary.
Many dentists believe that dental implants the best tooth replacement solution. They are self-supporting, so the nearby natural teeth remain intact. Implants also promotes jawbone health. In most cases, dental implants can last for 30 years or longer — perhaps even for a lifetime.
How Much Does Each Option Cost?
A dental implant costs more than a bridge because the treatment process is lengthier and more complex. However, an implant may be a better long-term value because it should last for many decades if it receives proper care. Your dental team will be sure to give you price estimates for each of your treatment options and help you to explore how insurance and/or financing may be able to help you manage the cost of your tooth replacement procedure.
Both dental bridges and dental implants provide reliable tooth replacement. The one that is best for you will depend on your circumstances; your dental team will be happy to help you compare your choices and make a wise decision.
About the Author
Dr. Angela J. Santavicca is a general and restorative dentist in Lebanon. She completed dental school in 1994. Since then, she has continued to hone her skills through advanced education. Together with her colleagues in our practice, she is able to offer dental bridges and comprehensive dental implant care. To learn more about these treatments, contact us at 603-643-4142.