Sedation Dentistry – Lebanon, NH
Experience Anxiety-Free Dental Care at Last
Dental phobia is a real and widespread problem that negatively affects patients of all ages and backgrounds. While these feelings can be mild in many cases, other instances are severe enough to result in skipped appointments, habitual dental avoidance, and slowly worsening oral health problems that eventually result in serious damage.
At Santavicca Dental Professionals, we are 100% committed to creating a safe, compassionate, and nurturing environment for your ongoing care. If our personal efforts cannot help you relax alone, several sedative techniques are also available here in Lebanon, NH, including advanced general anesthesia. By matching the severity of phobia and your personal preferences to one of these sedation techniques, we hope to create a genuinely fear-free experience that leaves you smiling. Please contact us today to schedule a consultation with Dr. Santavicca and her team – we look forward to meeting you!
Nitrous Oxide Sedation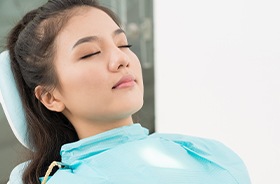 Many patients know this type of sedation by a different name – laughing gas! Nitrous oxide is safe for all ages and may be the right choice for patients who have mild feelings of nervousness or anxiety concerning dental treatment. Our team will attach a nasal mask to a patient that administers the gas (mixed with oxygen), and within minutes, they should feel calmer and more content while still remaining awake. Once the mask is removed, these effects wear off just as quickly, which means it's easy for a patient to return to their regular routine the very same day.
Oral Conscious Sedation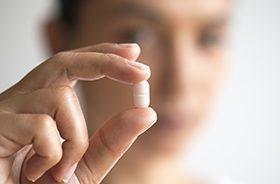 Oral conscious sedation offers a more moderate level of relaxation for patients in need. We will prescribe medication and also provide detailed instructions for when to take it before your appointment is set to begin. While you will remain conscious enough to respond to any requests from our team, it's likely that you will enter a deep stage of comfort and not remember much about your visit once you've fully recovered. Please remember to arrange for an escort to bring you to and from our practice, as you will be unable to drive yourself.
IV Sedation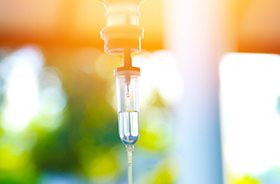 IV sedation is similar to oral conscious sedation, but it offers one significant advantage – the medication is administered intravenously (through the vein), which means that the dosage can be easily adjusted throughout the treatment process to ensure the ideal level of sedation. While this technique is not designed to render patients unconscious, some may feel so at ease that they doze off. Many people even say that it helps entire appointments feel like they only take a few minutes!
General AnesthesiA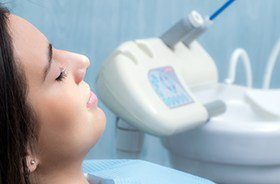 At Santavicca Dental Professionals, we are happy to have the assistance of an in-house anesthesiologist who can help patients achieve full sleep during their procedures. This advanced technique is typically recommended for cases of severe anxiety/fear or overly long procedures that require patients to sit still for an uncomfortable amount of time. You will be monitored closely at all times to ensure your safety. Once you're finished and recovered, you will have no memory of your treatment – only a better, brighter smile!