Dental Crowns – Lebanon, NH
Renew Your Tooth's Form and Function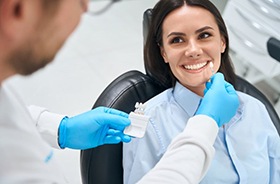 If you have a damaged tooth, we may recommend that you receive a dental crown. This restorative treatment has the potential to renew your tooth's form and function. It could prevent an extraction, reduce dental sensitivity, and offer many other benefits. Would you like to learn more about crowns and how they may be able to help you? Read this page, and then get in touch with our Lebanon, NH, dental team when you are ready to book your consultation. We look forward to caring for your smile!
Why Choose Santavicca Dental Professionals for Dental Crowns?
One-Visit CEREC Restorations Available
Beautiful, Natural-Looking Results
Skilled & Empathetic Dental Team
What Is a Dental Crown?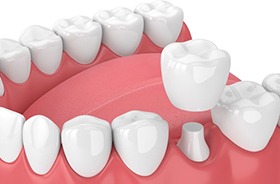 Dental crowns in Lebanon are custom "tooth caps" that completely cover a tooth's crown (the part you normally see above the gum line). Their primary purpose is to protect weak and damaged teeth, restoring both their function and appearance.
You may need a dental crown if:
A tooth has suffered significant damage or decay.
You have recently undergone root canal therapy.
One of your teeth is badly misshapen.
You have cracked tooth syndrome.
One of your old crowns feels loose or has incurred damage.
You have a dental implant that requires restoration.
Crowns may be made out of various materials, including metals, porcelain, and porcelain-fused-to-metal.
The Process of Getting a Dental Crown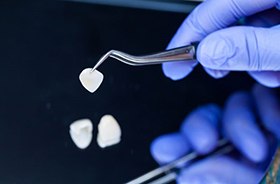 To start the crown process, we will prepare your tooth by removing a bit of its enamel. This allows the crown to fit in comfortably with the rest of your bite. Next, we will take impressions of your teeth.
The traditional crown process involves coordination with a local dental lab, which fabricates the restoration while the patient wears a temporary crown for a few weeks. However, because we have CEREC technology in our office, we are often able to provide same-day crowns. After taking a digital impression of your teeth, we can use our in-office milling machine to create a beautiful, permanent crown.
The Benefits of Getting a Dental Crown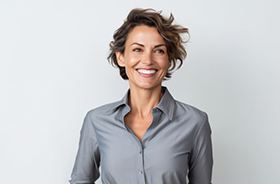 Dental crowns offer numerous outstanding benefits:
A crown can restore the appearance of a tooth and allow you to smile with confidence. Porcelain crowns can even be shade-matched to blend in beautifully with the color of the surrounding dentition.
With a crown to protect a damaged tooth, you can eat a wide variety of foods without worrying that you will worsen the tooth's condition or suffer pain.
A crown can oftentimes prevent the need for an extraction.
With proper care, a crown has the potential to last for 15 years or longer. Good oral hygiene and regular checkups are both important.