Porcelain Veneers – Lebanon, NH
Disguise All Your Smile's Aesthetic Flaws
Would you like to improve your smile's appearance? If your teeth have serious aesthetic flaws, you may be a candidate for porcelain veneers in Lebanon. This remarkable cosmetic treatment has the potential to transform the way your teeth look after just two appointments in our office. Read on to learn what porcelain veneers are, what they can accomplish, and what you can expect during the treatment process.
What Are Porcelain Veneers?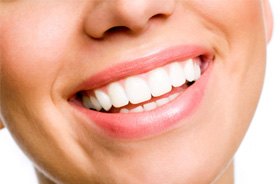 As their name implies, porcelain veneers are thin pieces of porcelain that a cosmetic dentist in Lebanon permanently attaches to the fronts of your teeth. They come in a variety of shades, so our team can pick a color that will both look natural and beautiful. Veneers are able to disguise a number of aesthetic flaws, including:
Chips
Cracks
Discoloration
Teeth that appear too short
Misshapen teeth
Small gaps between teeth
Minor misalignment
You can choose to get just one veneer to hide a particularly unattractive tooth, or you can opt for a full set of 4 – 8 veneers to effect a total transformation. Although veneers are normally applied only to the top teeth, they can be applied to bottom teeth as well.
The Porcelain Veneer Process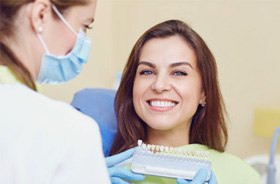 First, we must make sure that porcelain veneers are a good fit for your circumstances. During your cosmetic consultation, we'll discuss your smile goals and evaluate your oral health. If your teeth and gums are in good shape, and if you do not need corrective orthodontic treatment, it is likely that veneers will work well for you.
The process of actually placing the porcelain veneers typically happens across two appointments. At your first appointment, we'll prepare your teeth. We'll have to remove a thin layer of enamel from them so the veneers do not make your smile look bulky or unnatural. Then, we'll take detailed impressions and images of your teeth; the data goes to a lab that will create your custom veneers. We'll provide you with a temporary cover for your teeth to protect them while you wait for your permanent veneers to arrive. At the second appointment, we'll make any necessary final adjustments to the veneers and attach them to your teeth.
Caring for Porcelain Veneers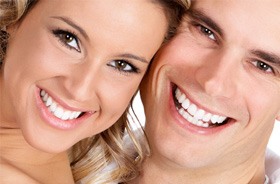 A set of veneers may last for 10 – 15 years or longer with proper care. To extend the lifespan of your new smile, you should:
Practical excellent oral hygiene. Protecting the teeth beneath the veneers ensures that they have a good base of support.
Enjoy staining foods and beverages in moderation. Porcelain is resistant to stains, but it can become discolored over time by things like coffee, red wine, and grapes.
Be aware of the risk of breakage. Biting down on ice or other hard objects, or playing sports without a mouthguard, increases the risk that the veneers will break.
Visit us for routine checkups. During your checkups, we can polish your veneers to help them stay as clean as possible and preserve their gorgeous luster.
Understanding the Cost of Veneers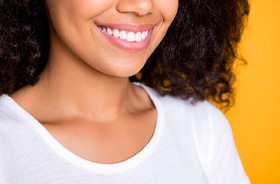 Compared to other treatments from a cosmetic dentist in Lebanon, veneers may seem expensive. However, they are a transformative treatment that can provide you with decades of radiant smiles — for many patients, especially those who want perfect teeth, they are a smart investment! However, we understand that veneers are a big financial commitment, so we hope you consider all of your cosmetic options before you decide how to move forward.
Cost vs. Cosmetic Dentistry: What Should I Choose?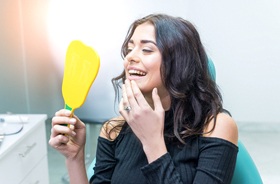 Veneers in Lebanon are just one of the cosmetic services that are available. Here is a brief comparison of some of the most popular treatments, along with a generalized estimate of their prices:
For some patients, braces or clear aligners are necessary for their oral health. However, if your dental misalignment is minor and purely aesthetic, you should keep in mind that orthodontic treatment could end up costing you thousands of dollars and several months of your time. Additionally, it will not enhance the shape or color of your teeth.
Teeth whitening. Professional whitening is affordable for most patients, often costing only a few hundred dollars. However, its results may last for just a few years (depending on how you care for your teeth), and it will not change the shape or positioning of your teeth.
Dental bonding. At first, dental bonding (also called cosmetic bonding or direct bonding) looks similar to veneers, and it is quite affordable. However, it is not particularly durable. It tends to last for 3 – 5 years on average, after which it may break or incur noticeable stains.
Veneers can enhance the color and shape of your teeth. In some cases, they can even disguise minor misalignment. They typically last for a minimum of 10 – 15 years. They can rightly be considered an "all-in-one" cosmetic treatment that offers an excellent monetary value!
If you would like to learn more about your cosmetic dentistry options, simply ask! We are happy to provide price estimates and explain the pros and cons of various treatments.
How to Make Veneers Affordable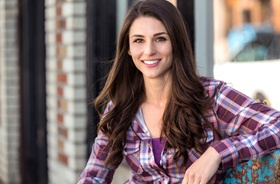 Dental insurance almost never covers the cost of veneers in Lebanon. However, just because you cannot use your benefits to pay for them does not mean that you are without help when it comes to affording your new smile. There are a few provisions that might make veneers easier to fit into your budget:
Essential Dental Plan. This discount plan provides reduced prices on virtually all the services we offer, including cosmetic treatments like veneers. It can also make it easier for you to keep your veneers in great shape after they are placed.
We work with CareCredit, a third-party lender, to provide low-interest and no-interest financing for patients. The application process is quick, and you may be able to choose between several payment plans, according to what works best for your budget.
Would you like to learn more about veneers and their cost? Our team looks forward to speaking with you! Contact Santavicca Dental Professionals in Lebanon today to schedule a consultation or ask questions.
Veneers FAQs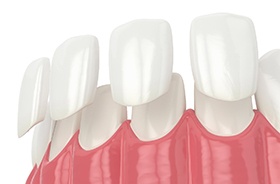 Veneers in Lebanon have the potential to transform your smile and help you achieve your ideal look. Before you invest in them, however, you might want to learn more about the road ahead. Below, you will find answers to some frequently asked questions about this treatment. If you do not see the information you were hoping for, reach out to us directly — we look forward to speaking with you!
Are Veneers Permanent?
A set of veneers will not last forever. However, they are considered to be a permanent treatment. During the preparation process, a sliver of enamel is removed from your teeth. That enamel will not grow back, and without it, your teeth may be extra-sensitive and have an odd appearance. Veneers or another type of restoration are necessary to protect the prepared teeth. Do not let the permanent nature of veneers scare you. Most patients who commit to them have no regrets whatsoever about their decision.
Is There Anything I Cannot Eat with Veneers?
As part of your veneers treatment process, you will get temporary veneers. Temporary veneers are relatively delicate, so you should avoid using them to bite on hard foods, like raw vegetables, chewy candies, and anything else that requires a lot of power to eat. They may also stain easily, so it is best to avoid dark items, like coffee and red wine. Once your temporary veneers are replaced by permanent ones, you can eat almost anything. However, you should continue to be cautious with hard foods. Although you can drink coffee and other highly pigmented beverages, you should do so in moderation; overconsumption might cause your veneers to become discolored.
Can Veneers Be Used for Bite Corrections?
Veneers do not change the positioning of your teeth, so they cannot correct issues like overbite, underbite, crossbite, and related problems. However, if you have some dental misalignment that is quite minor, and you are only interested in addressing it for aesthetic reasons, veneers may be able to help you. They can disguise issues like small gaps between teeth, slight crookedness, and more. They may also be able to hide a slight open bite by making your teeth appear longer.
Keep in mind that if you are considering orthodontic treatment, it is best to do it before you get veneers.
How Long Do Veneers Last?
A study from 2007 found that 96% of veneers lasted 5 years, and 73% lasted 15 – 16 years. A separate study, conducted in 2012, found that 83% of veneers lasted 20 years. In most cases, veneer failure is the result of cracks and chips. Really, how long your veneers last depends primarily on how you care for them. Simple steps like wearing a mouthguard when appropriate, not biting on anything hard, regularly visiting your cosmetic dentist in Lebanon, and taking other precautions, can help your veneers to stand the test of time.