Smile Makeover – Lebanon, NH
A Perfect Smile Is Within Your Reach
Some patients come to us with multiple concerns about the appearance of their smile. For example, they might be dealing with significant staining, minor spacing issues, and concerns about the shape of their gumline. For such individuals, our Lebanon dental team may recommend our smile makeover service. This customized cosmetic treatment plan may be just what you need to believe that a perfect smile is within your reach. Read on below to learn more about it.
Why Choose Santavicca Dental Professionals for a Smile Makeover?
Experienced, Detail-Oriented Team
Gorgeous, Natural-Looking Results
Customized to Your Preferences
How Does a Smile Makeover Work?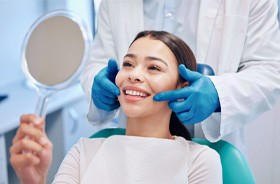 The first step in the smile makeover process is a consultation with a cosmetic dentist. They will listen to your concerns, strive to understand your goals for treatment, and perform a thorough exam. Thereafter, they can inform you of your next steps. Some patients require restorative care before they can move forward with cosmetic procedures, while others can jump straight into the aesthetic aspect of their treatment plan.
Your smile makeover may involve multiple services, including:
Teeth whitening to get rid of stubborn stains
Gum recontouring to enhance the proportions of your smile
Veneers or bonding to reshape your teeth
Metal-free restorations to replace unsightly fillings and crowns
Once the details of your treatment plan are settled, it may take several appointments before you get to see your final results. We strive to work as efficiently as possible so you can achieve your goals without unnecessary delays.
The Benefits of Getting a Smile Makeover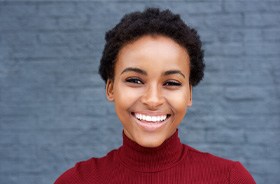 Some of the most noteworthy benefits of getting a smile makeover include:
Enhanced confidence. When you love the way your smile looks, you may feel more confident in social situations.
A better first impression. People tend to gravitate toward individuals who have an attractive, beautiful smile. Your new look can give the impression that you are friendly, approachable, successful, and full of youthful energy.
Improved oral health. Even though a smile makeover is primarily cosmetic, it can motivate you to take excellent care of your teeth.
Long-lasting results. Some cosmetic treatments, such as veneers, offer results that last for decades.
Understanding the Cost of a Smile Makeover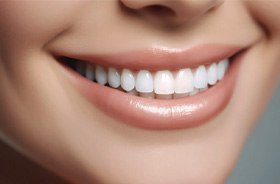 The cost of a smile makeover varies from case to case. It depends on which treatments you undergo, as well as the extent of those treatments. During your consultation, our team can discuss specific numbers with you. We always strive to be fair and reasonable in our pricing. We can also assist you as you explore payment options. Even though insurance does not usually cover cosmetic services, you may be eligible for financing.
A smile makeover can seem a bit pricey at first, but it is an excellent value that can provide many years of enhanced beauty and confidence.