Emergency Dentist — Lebanon, NH
Broken Tooth? In Pain? We're Here to Help!
Maybe you've suddenly tripped on the sidewalk and chipped a tooth, or maybe a dull discomfort in the back of the mouth has suddenly blossomed into searing pain. No matter what the specific circumstances are, every dental emergency patient has something in common – they need help NOW.
At Santavicca Dental Professionals, we understand that these situations are never convenient or timely. Nonetheless, we're fully committed to your health and wellbeing and will accommodate dental emergencies in Lebanon as soon as possible. New and current patients are both welcome, so please don't hesitate to contact us for further assistance.
If you are in pain or need help, don't hesitate to give us a call right away!
Why Choose Santavicca Dental Professionals for Emergency Dental Care?
Team of Highly Experienced Doctors Focused On Your Comfort
Same-Day Emergency Appointments Available
Advanced Dental Technology for Fast, Precise Care
What to Do in a Dental Emergency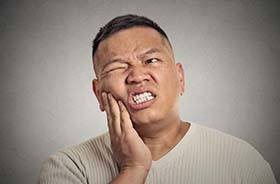 Step 1: Call Us As Soon As You Can. No matter what type of dental emergency you're facing, give us a call right away so we can fit you into our schedule and give you first-aid instructions.
Step 2: Visit Us for a Same-Day Appointment. We do everything we can to see emergency patients the same day they call us so you can get out of pain as quickly as possible.
Step 3: Make a Custom Treatment Plan. After your exam, we'll review our findings with you and fully explain all your treatment options. Together, we'll work with you to make a plan for getting your oral health back on track.
Step 4: Get the Professional Dental Care You Need Now. Our talented team of doctors is proud to use the latest dental technology to offer a wide variety of services, so no matter what treatment you need during your emergency, we'll be ready to get to work right away.
The Most Common Dental Emergencies
A dental emergency can be a frightening situation, but the last thing you should do is panic. Give our office a call and describe the situation. We will give you guidance on your next steps. We may say that you should come to our office right away, that you should visit the local emergency room, or that it is all right if you wait a day or two before you visit us.
Before you receive professional attention, there may be some steps you can take on your own to manage the situation. Below, we provide a few details about what you can do to handle a few of the most common dental emergencies in order to lessen your pain and minimize the damage to your oral and overall health.
How to Prevent Dental Emergencies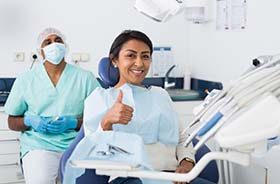 The team of doctors and other staff here at Santavicca Dental Professionals is always ready to help you if you face a dental emergency. However, we would prefer that you never have to deal with such a situation in the first place. While some urgent oral health crises are inevitable, many others could have been prevented with a few precautionary measures. That is why we have put together this basic guide to help you drastically reduce the chances that you will have to endure a dental emergency.
Maintain Good Oral Hygiene Habits at Home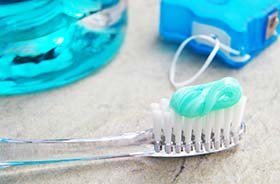 Plaque and tartar buildup on the teeth lead to decay, and dental decay is often a precursor of a dental emergency. To prevent plaque and tartar from building up on your teeth, you should:
Brush your teeth at least twice a day. Do not forget to brush the backs of your teeth and the area around the gum line.
Floss once a day. Be sure to use proper technique. Your dental hygienist can provide you with personalized coaching.
Drink plenty of water to rinse away food particles and bacteria.
Visit your dentist regularly (at least twice a year) for routine cleanings and checkups.
Limit Your Sugar Intake
Sugar is a primary cause of tooth decay. It is best to limit how much of it you include in your diet. Also, acidic beverages, such as soda and fruit juices, can wear away at the tooth enamel, so you should be mindful of how much of them you consume. In addition to avoiding foods that are not tooth-friendly, you should eat plenty of calcium-rich items to help fortify your teeth, such as cheese, milk, and broccoli.
Don't Chew on Hard Objects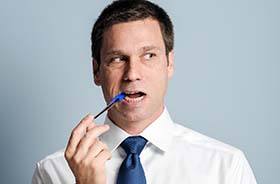 Tooth enamel is extremely hard, but it is also brittle; it can easily break if it encounters hard objects. Therefore, it is best to avoid habits like chewing on ice or biting down on hard candy. You should also not use your teeth on non-edible items. For example, you should never use your teeth as a tool to open packages or take the tags off of clothing. To help you avoid doing such things, you might find it beneficial to carry a small pair of scissors or a pocketknife with you.
Play & Sleep Safely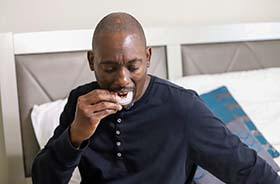 If you like to play sports, you should always wear a mouthguard while you are on the field are court — even if you are playing a "non-contact" sport. You can purchase mouthguards from most sporting goods stores, but custom ones from a dentist offer the highest level of protection.
If you suffer from bruxism (involuntarily teeth grinding), you should invest in a different type of teeth guard — a nightguard. It will stop the teeth from contacting one another while you sleep and prevent the wear and tear that bruxism can cause.
Dental Emergency FAQs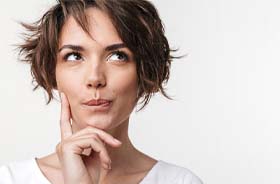 The team at Santavicca Dental Professionals is ready to leap into action to help you cope with your dental emergency in Lebanon. However, the ultimate outcome of an oral health problem depends largely on you. That is why we have compiled answers to some commonly asked questions about dental emergencies. Hopefully, what you find will equip you to handle urgent situations in the best way possible. If you do not see the information you were specifically looking for, give us a call and we will be happy to assist you.
Will My Toothache Go Away on Its Own?
Teeth cannot heal themselves. Therefore, toothaches generally do not go away on their own. However, there are some exceptions. If pain is coming from somewhere near a tooth, rather than the tooth itself, your discomfort might disappear without treatment. This might happen if you have a sinus infection or a minor gum injury.
Another reason why a toothache might suddenly vanish is if the nerve inside the tooth dies and is no longer able to send pain signals to the brain. However, the infection that cause the toothache in the first place may still be present and continue to threaten your oral and overall health. Without treatment, you could suffer significant damage to your jawbone or even develop systemic illness.
Should I Visit the Emergency Room First for Dental Emergencies?
Unfortunately, most emergency departments in hospitals do not have the equipment or qualified personnel to address dental emergencies. They might just tell you to take some pain relievers and visit your dentist as soon as possible. However, you should go to the emergency room if you are experiencing any severe or life-threatening problems, such as a broken jaw, difficulty breathing, a high fever along with a toothache, or a soft tissue injury that is bleeding excessively.
What Does Throbbing Tooth Pain Mean?
In most cases, throbbing tooth pain points to an infection within a tooth. An infection can cause inflammation in the tooth's pulp (the sensitive tissue in a tooth's center that contains nerves). This usually occurs when decay or damage allows bacteria to sneak into the tooth's interior. A tooth infection is a serious problem that requires prompt treatment. Otherwise, the infection could spread and cause systemic illness.
Another possible reason for throbbing tooth pain is bruxism (grinding and clenching). Since bruxism often occurs during sleep, many people are not aware that they do it. Unlike an infection, bruxism-related pain usually occurs across several teeth rather than a highly localized area.
What Should I Keep in My Emergency Dentistry Kit?
Here are some items that can help you deal effectively with almost any dental emergency:
A small storage container with a lid
Sterile gloves
Dressing, gauze pads, and cotton balls
An ice pack
Dental cement
An oral anesthetic
Pain medication
Dental floss
Your dental insurance information
Contact information for your dentist
An updated list of your current medications and medical conditions