All-on-4 – Lebanon, NH
A New Smile in a Single Day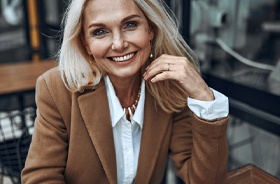 For patients who have lost numerous teeth, dental implants offer an elegant solution. However, many individuals might not qualify for traditional implant treatments due to the condition of their jawbone. Other patients might hesitate to commit to the lengthy treatment time that comes with implants. For such people, All-on-4 in Lebanon may be the ideal solution. On this page, you will learn more about this efficient, cost-effective, and minimally invasive full-arch tooth replacement solution.
How Do All-on-4 Implants Work?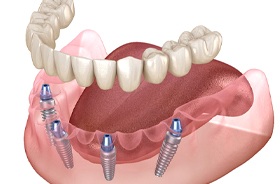 As the name of the treatment implies, All-on-4 requires as few as four dental implants in Lebanon to support a full arch of replacement teeth. Two of the implants are placed at an angle toward the back of the jaw, and two are placed at the front of the jaw — in places where the bone is naturally strong and thick. On the same day that the implants are placed, a provisional (temporary) set of teeth gets attached to them. Hence, you may sometimes hear All-on-4 referred to as Teeth in a Day.
Am I A Candidate For All-on-4 Implants?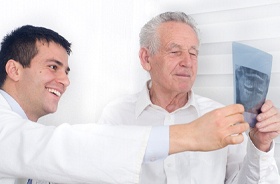 You may be a candidate for All-on-4 if:
You have lost all or most of your natural teeth
You have a traditional denture, but you are tired of the inconveniences associated with it
You are in fair oral and overall health (you must be free of gum disease and any other conditions that could seriously compromise your body's ability to heal after surgery)
You have excellent oral hygiene habits
Your jawbone is strong enough to support dental implants
The team at Santavicca Dental Professionals will be happy to examine your mouth and let you know weather the All-on-4 treatment is a fit for you.
What Are the Benefits of All-on-4 Implants?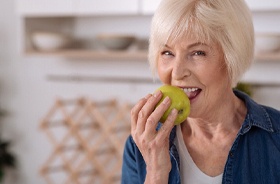 Some of the most noteworthy benefits of All-on-4 include:
No need to go without teeth. Your natural teeth can be extracted and your new denture placed in the same day.
Usually no need for a bone graft. In most cases, even patients whose jaw has already lost some of its mass do not need a bone graft prior to their All-on-4 treatment.
Natural function. All-on-4 dentures can enable you to eat virtually any food.
All-on-4 dentures are permanently fixed in place, so you can care for them almost exactly how you would care for natural teeth.
All-on-4 vs Traditional Dental Implants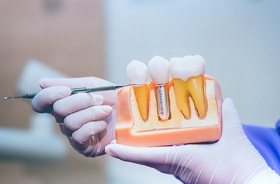 All-on-4 is usually a faster and less expensive way to replace a full arch of teeth than traditional implants. It is also less invasive because it requires only four implants, as opposed to six or more. Of course, traditional implant treatments have their advantages as well. For example, the prosthetics they support may be even sturdier than All-on-4 dentures. Your implant dentist in Lebanon will carefully assess your circumstances before they recommend one treatment above the other.
Would you like to learn more about your options for replacing your lost teeth? The experienced team at Santavicca Dental Professionals is ready to assist you. Contact us today to schedule a consultation.