Wisdom Tooth Extractions – Lebanon, NH
Protect Your Oral Health Through Wisdom Tooth Extractions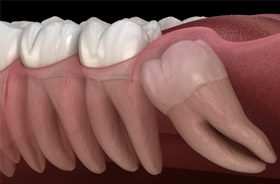 An average adult human has 32 teeth, including four wisdom teeth, which develop a bit later in life (usually during the teenage years). Unfortunately, most people's mouths are too small to accommodate these third molars, which can lead to serious oral health complications. To prevent such issues and protect the dental and overall well-being of our patients, we offer wisdom tooth extractions in Lebanon.
Problems with Wisdom Teeth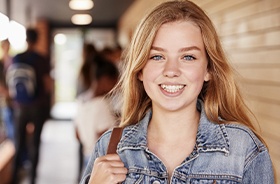 Wisdom teeth can lead to a number of serious problems, including:
Overcrowding. Due to a lack of space, the wisdom teeth may cause overcrowding in the mouth. They can push the adjacent teeth out of their proper positions, leading to misalignment and bite problems.
Damage to nearby teeth. Since the wisdom teeth are so far back in the mouth, it may be difficult to keep them clean. When food particles and bacteria get stuck between a wisdom tooth and the molar next to it, both teeth are at a higher risk of decay.
Infection. Wisdom teeth that are fully or partially impacted (stuck beneath the gum line) are at a higher risk of infection than other teeth. The surrounding bone may suffer damage as a result. Dental infections can also lead to systemic illness.
Who Should Undergo Wisdom Tooth Extractions?
Not everyone needs to have their wisdom teeth removed. In fact, there are some individuals who can retain their third molars for a lifetime and suffer no ill effects. More often, however, extraction is necessary. During your regular checkups, we will keep an eye on your wisdom teeth. If we believe they are causing problems, or that they may cause problems in the future, we will recommend that you undergo oral surgery to have them removed.
Even though most people who have their wisdom teeth extracted are young adults, there is no age limit for the procedure. Sometimes, older individuals find that their third molars are beginning to cause them pain and thus should have them removed.
The Removal Process
We use local anesthetic and sedation to make sure our patients are comfortable during the wisdom tooth removal process. You should feel little to nothing while our on-staff oral surgeon, Dr. Donald Gass, gently extracts the teeth. He may have to create an incision in the gums and/or break the teeth into pieces in order to take them out.
It's normal to experience some swelling and soreness after the procedure. However, we'll give you detailed postoperative instructions to minimize your discomfort and keep your risk of complications as low as possible. We may also prescribe painkillers and antibiotics. The soft tissue at the extraction site should heal fairly quickly; within a few days to a week, it is likely that you'll be able to resume your normal routine. If you have any questions or concerns during your recovery period, you're welcome to call us as your dentist in Lebanon.
Could your wisdom teeth use a checkup? Contact Santavicca Dental Professionals to schedule an appointment with our team of oral health experts.