Implant Dentures — Lebanon, NH
Seamlessly Replace a Full Arch of Teeth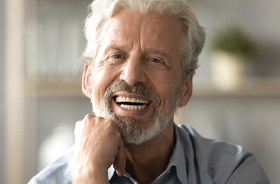 It is estimated that more than 36 million Americans are missing all of their teeth. Many of them choose to get traditional dentures because they are convenient and relatively affordable. Unfortunately, though, they do have their drawbacks. A better solution is available! We often recommend implant dentures in Lebanon as the best way to address extensive tooth loss. Contact Santavicca Dental Professionals today to learn more about this remarkable treatment.
What Are Implant Dentures?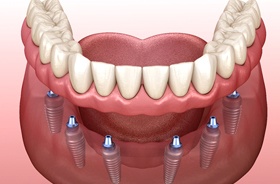 Dental implants in Lebanon are prosthetic tooth roots. They are made out of a biocompatible titanium alloy, and they resemble small screws. We insert them at strategic locations throughout the jawbone, and they are able to provide the base of support for a custom denture. Implant dentures are much sturdier and longer-lasting than their traditional counterparts.
There are a few different types of implant dentures. Depending on your unique circumstances, we might recommend that you receive one of the following:
Fixed/Permanent Implant Dentures
As their name implies, these are permanently attached to the implants that support them. They can only be removed by a dental professional. Many patients enjoy the convenience of always having their teeth in their mouth. However, this type of restoration does require more jawbone density than removable implant dentures.
Removable Implant Dentures
Removable implant dentures, also called overdentures or "Snap-On" dentures, are easy for patients to remove on their own. They "snap" onto dental implants via ball- or bar-shaped attachments. They typically require just 2 – 3 dental implants per arch (as opposed to four or more, as is the case with permanent implant dentures).
The Implant Denture Procedure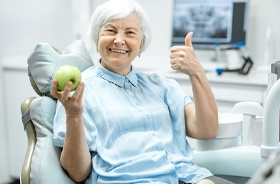 The implant denture procedure usually involves four main steps:
Consultation: Your implant dentist in Lebanon will assess your candidacy for implant dentures, answer your questions, and start to plan your treatment.
Implant placement surgery: One of our in-house experts will carefully place the implants into your jawbone during a minimally invasive procedure.
Osseointegration: The implants will bond with the tissue around them over the course of several months. Later, you will receive attachments on top of your implants to keep your denture in place.
Restoration: We will design and place your permanent new teeth.
Am I a Candidate for Implant Dentures?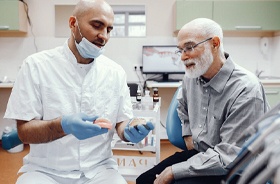 You may be a candidate for implant dentures if:
You have lost all or most of your teeth.
You are well enough to undergo minor surgery.
You have adequate bone density in your jaw to support dental implants.
You have excellent oral hygiene habits.
Most patients do qualify for implant dentures, either right away or after some preliminary treatments. For example, you might require a bone graft or gum disease therapy.
Benefits of Combining Dentures & Dental Implants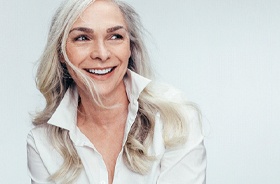 Even though implant dentures cost more and require a longer treatment process than their traditional counterparts, the many benefits they offer make them a worthwhile investment. Some of their primary advantages include:
They provide a strong bite force that can stand up to virtually any food.
They look natural.
They feel comfortable in the mouth and will not slip around while you are eating or speaking.
Dental implants prevent the bone loss in the jaw that commonly occurs after natural teeth are extracted.
They can last for many years — your dental implants might even endure for your entire lifetime!