Family Dentistry – Lebanon, NH
Quality Dental Care for Your Whole Household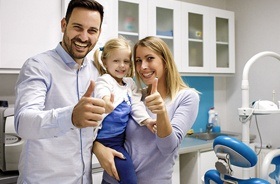 From the time an individual is a small child, all the way into their senior years, oral health is extremely important. That is why we welcome patients of practically any age into our practice. We strive to provide gentle, caring, and high-quality care for the families who trust us to care for their teeth and gums. If you would like to learn how our team can help every member of your household achieve improved oral health, contact Santavicca Dental Professionals today.
Advantage of Visiting a Family Dentist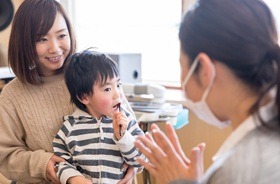 When you choose our team as your family dentist in Lebanon, you can expect to reap a number of significant advantages:
We are open until 7:00 p.m. three days a week, and we have Saturday appointments available every other week. We do not want anyone in your family to miss work or school to receive dental care. We may even be able to schedule block appointments for your family so you will not have to make multiple trips to our office.
Flexible financial policy. We are an insurance-friendly practice; even if we are not in your plan's network, we may still be able to help you get the most out of your policy. For patients without insurance, an in-house savings plan is available. We also work with third-party creditors to help families who may need a little extra time to pay for dental treatment.
Patient education is one of the primary avenues we use to help families achieve healthy teeth and gums. We adapt our educational approach to suit each patient's age and comprehension level, whether we are speaking to a curious toddler or an experienced adult. We even use intraoral cameras as a visual aid to help patients get a firsthand view of what is happening inside their mouth.
Family-focused care. Genetics and common habits can lead family members to struggle with similar dental problems. We can help your entire household to cope with such issues.
A gentle, compassionate approach. Many of our patients have commented on the kind, caring way in which we provide dental services.
Family Friendly Service
Our team offers a broad range of dental services that benefit patients of all ages:
Preventive care. Triannual checkups and cleanings are essential for both children and adults. We also offer dental sealants, nightguards, and more to help you and your young ones maintain healthy teeth.
Restorative care. Cavities can afflict individuals of any age. Via fillings or other restorative treatments, we can help members of your family regain full dental function.
Emergency services. Whether someone in your family has a toothache, or an "oops" moment causes an oral injury, we are ready to help. Often, we are able to see emergency patients on a same-day basis.
Sedation dentistry. We understand that dental visits cause some people, children and adults alike, to experience anxiety. That is why we offer various types of sedation that are suitable and safe for patients of practically any age.