Dental Crowns & Bridges – Lebanon, NH
Treatments that Offer Sturdy, Beautiful Smile Repair
A complete, fully functioning set of teeth is an invaluable asset to both your oral and overall well-being. For patients whose smiles contain a missing tooth or a severely damaged tooth, we may recommend that they receive a crown or bridge. These restorative services can bring back full dental function and protect your teeth from future damage.
What Is a Dental Crown?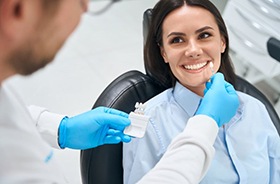 Dental crowns in Lebanon are custom "tooth caps" that completely cover a tooth's crown (the part you normally see above the gum line). Their primary purpose is to protect weak and damaged teeth, restoring both their function and appearance.
Crowns may be made out of various materials, including metals like gold and silver, which are extremely strong and tend to last for decades. However, some patients prefer to have a crown that matches the natural color of their teeth, in which case we can place a porcelain or porcelain-fused-to-metal crown.
You may need a dental crown if:
A tooth has suffered significant damage or decay
You've recently undergone root canal therapy
One of your teeth is badly misshapen
You have cracked tooth syndrome
One of your old crowns feels loose or has incurred damage
You have a dental implant that requires restoration
What Is a Dental Bridge?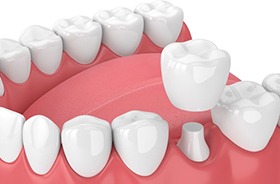 Dental bridges in Lebanon are a means to replace one or more missing teeth in a row. There are a few types of bridges:
A traditional bridge contains two crowns, which we fit over the abutment teeth (the teeth adjacent to the empty space in your mouth). The crowns support one or more pontics (artificial teeth).
A cantilever bridge needs only one abutment tooth to support it.
An implant-supported bridge is attached to dental implants instead of abutment teeth. This is the strongest, most natural-feeling type of bridge.
A Maryland bridge is supported by a metal framework that attaches to the abutment teeth rather than by crowns.
Dental bridges tend to be quite strong and have the potential to last for 10 – 15 years or more. In most cases, they're constructed of porcelain or porcelain fused to metal.
The Crown and Bridge Process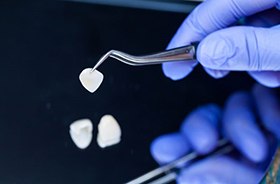 If you're going to receive a non-implant-supported crown or bridge, we'll begin your treatment process by preparing the teeth that will support the restoration. We may have to remove some of the enamel so the teeth fit well under the crowns. Then, we'll take impressions of your teeth and use that data as the basis for designing your crown or bridge.
Many patients are eligible for same-day restorations thanks to our remarkable CEREC technology. Our in-house milling unit can craft a crown or bridge out of high-quality dental porcelain while you wait in our office, eliminating the need for you to wait weeks while a dental lab creates your permanent restoration.
The process for placing implant-supported restorations is significantly different from that of non-implant restorations. You can read more about dental implants here.
Do you believe your smile could benefit from a dental crown or bridge? Contact Santavicca Dental Professionals to learn more about these restorative treatments.