Teeth Whitening – Lebanon, NH
Say Goodbye to Stains
Even if your teeth are quite healthy, you might be dissatisfied with their color. Yellow, stained teeth can detract from your smile's glow and perhaps even negatively affect your confidence. Instead of turning to unreliable — and sometimes unsafe — over the counter teeth whitening options, we suggest that you visit a cosmetic dentist for a professional bleaching service. We offer both in-office and take-home treatments that can remove years of stains and give your teeth a brand new glow.
Causes of Dental Discoloration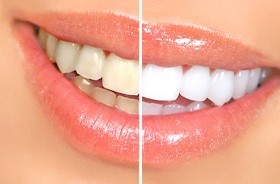 Our society places a high value on bright white teeth — but did you know that teeth are not naturally that color? Even when they are free of significant stains, they tend to be slightly yellow or grayish. Whitening is often necessary to achieve a truly brilliant smile. That is especially true if additional factors have caused teeth to look excessively dark, yellow, or otherwise discolored. Genetics, the consumption of certain foods and beverages (coffee, red wine, etc.), tobacco use, and medication can all contribute to stains on the teeth.
In-Office Zoom! Whitening
Zoom! is our in-office treatment of choice. The procedure is simple and usually takes only one hour or so. During your appointment, we start by applying protective barriers to prevent the whitening gel from irritating the soft tissues in your mouth. Then, we place the gel on the teeth and use a special light to enhance its stain-fighting power. We may rinse and reapply the gel a few times during your visit. Once the treatment is complete, your teeth should be several shades whiter than when you arrived at our office.
We generally recommend in-office treatments for patients who want to achieve a brighter smile as quickly as possible and who do not struggle with significant tooth sensitivity.
Take-Home Whitening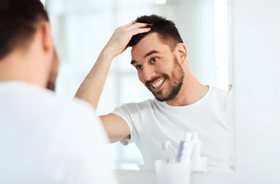 For patients who prefer to whiten their teeth in the comfort of their own home, or who believe that an in-office whitening treatment would be uncomfortable, we offer convenient take-home kits. The kits combine a high-strength whitening gel with snug trays that keep the gel on the teeth. All you have to do is follow the directions with your kit, and you will likely begin to see brighter teeth within a few days. It usually takes about two weeks for at-home whitening to produce optimum results.
In addition to being a standalone whitening method, take-home kits are also ideal for patients who want to touch-up the results of an in-office treatment.
Getting Started with Teeth Whitening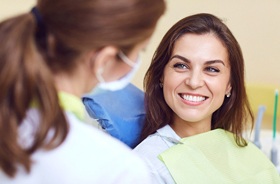 Professional teeth whitening is one of the most affordable cosmetic dentistry treatments. It can also have a huge impact on your overall appearance, perhaps even making you look younger and seem more successful. It is a worthwhile investment!
If you are interested in this transformative treatment, reach out to our friendly team. We will be happy to answer your questions, explain your treatment options in more detail, and arrange a consultation for you. We take pride in providing top-quality cosmetic care, and we want you to love your smile!