Dental Implants – Lebanon, NH
Replace Missing Teeth for Life
The loss of natural teeth can hurt much more than a person's oral health – they may struggle to eat food properly, speak clearly, or even feel confident in everyday settings. At Santavicca Dental Professionals, we want to help our patients regain not only their complete smile, but also their wellbeing and quality of life, too. In today's world, dental implants are unmatched in terms of longevity, aesthetic value, and durability. To explore this revolutionary method for rebuilding teeth further, keep reading below or contact us today here in Lebanon, NH to schedule a consultation.
Benefits of Dental Implants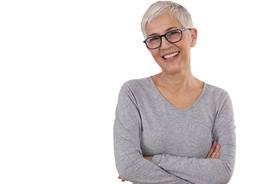 Some of the most outstanding benefits of dental implants include:
Total tooth replacement. Dental implants replace both the roots and crowns of lost teeth.
With proper care, dental implants have the potential to last a lifetime.
Outstanding aesthetics. Dental implant restorations are tailor-made to complement a patient's unique facial features and oral anatomy.
Reliable function. Dental implants can enable you to eat practically any food without taking special precautions.
High success rate. The dental implant procedure is successful in over 95 percent of cases.
Indications for Dental Implants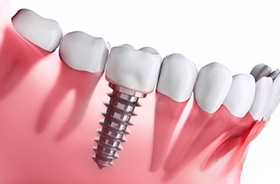 Our recommendation for your new, custom-made restoration will depend on the number of teeth lost. Whether you are missing one tooth, a few teeth, or even all of your teeth, we may have the ideal solution for you.
Missing One Tooth
Implant-retained dental crowns are the best solution for individual tooth replacement. Each crown is supported by just one carefully placed dental implant. These restorations can fit between natural teeth without requiring any significant alterations to their structure, and the placed implant will preserve jawbone health as well!
Missing Multiple Teeth
If a patient is missing more than one tooth, implant-retained dental crowns are still an option. Alternatively, if the teeth lost are next to one another, an implant-retained bridge may be an excellent choice. This type of restoration attaches over two placed implants on either side of the gap. The implants work as "anchors," holding the bridge sturdily in place so that it can function as reliably as the original dental structure.
Missing All Teeth
Many patients who have experienced severe tooth loss do not realize that dental implants can still be an option for replacement! Implant-retained dentures are a highly lifelike and cost-effective solution for numerous missing teeth. Unlike dental crowns, which require one implant per restoration, your customized denture can attach to a small number of implants placed throughout the mouth for an optimal fit.
Start to Finish Dental Implant Treatment
Many dental practices must refer patients to an outside specialist for the implant placement surgery. At Santavicca Dental Professionals, however, we have an on-staff oral surgeon who is more than capable of performing this complex procedure. Dr. Gass will carefully and precisely insert your implants into your jawbone so your new teeth can have the strong foundation they need. You will not have to put up with the inconvenience of visiting another practice for any portion of your dental implant journey.
Understanding the Cost of Dental Implants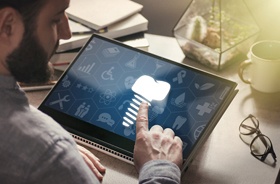 The cost of dental implants varies from patient to patient. Your cost will depend on how many teeth you are replacing, how much preparatory treatment you need, and other factors. Also, bear in mind that each stage of the process — including the implant surgery and the final restoration — comes with a separate price. Our team will be sure to give you a candid estimate for the cost of your treatment. Although dental implants have a higher upfront cost than alternative tooth replacement solutions, they are a worthwhile investment that could provide you with decades of confident smiles and natural dental function.