Root Canal Therapy – Lebanon, NH
A Tooth-Saving, Pain-Relieving Procedure
The term "root canal" has become synonymous with pain, but that stereotype is inaccurate. In fact, root canal therapy is a pain-relieving procedure that has the potential to save damaged, infected teeth from extraction. The team at Santavicca Dental Professionals is proud to offer this restorative service, and we do so in a way that prioritizes patient comfort. This page further explains what root canal therapy is and what you can expect from it.
What Is a Root Canal?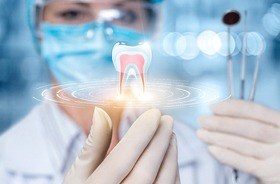 Although "root canal" is sometimes used to refer to a dental procedure, the root canal is actually part of a tooth's anatomy. It is the space inside of a tooth that contains the pulp. The pulp is a soft substance made up of nerves and connective tissues. When that pulp becomes infected or suffers damage, it can cause a severe toothache and lead to the need for root canal therapy.
Signs You May Need Root Canal Therapy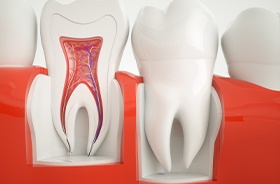 If you are experiencing any of the following signs and symptoms, it is very possible that you need root canal therapy.
A severe, throbbing toothache
A pimple-like bump on your gums
One tooth is darker than the ones around it
A tooth is extremely sensitive to hot and cold temperatures. The pain lingers even after the source of the temperature change is removed
Also, keep in mind that in some cases, root canal therapy is necessary even when there are no obvious signs of a problem.
Root Canal Therapy Procedure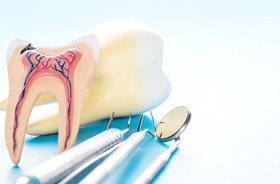 If you require root canal therapy, the first thing we will do during your appointment is make sure you are comfortable. We will numb the portion of your mouth where we will be working. We may also sedate you via nitrous oxide, oral conscious sedation, or IV sedation.
To begin the root canal therapy, we drill a small hole in the tooth in order to access the pulp. Then, we clean out the damaged or infected area. We also remove the nerve in the tooth that was sending pain signals to your brain. Finally, we fill in the tooth with a special material called gutta percha. In most cases, it is also necessary to place a crown on a tooth that has undergone root canal therapy.
Cost of Root Canal Treatment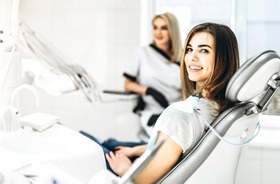 The cost of your treatment will depend on the extent of the damage to your tooth, whether you choose to be sedated, and other factors. Most types of dental insurance are willing to cover up to half of the cost of root canal therapy, and low-interest financing is available to help patients manage the portion of the cost that they are responsible for.
Some patients opt for a tooth extraction instead of root canal therapy because an extraction presents a lower upfront cost. However, that is a mistake. A missing tooth can lead to further dental problems, and tooth replacement is often more expensive than root canal therapy.
Do you believe you need root canal therapy, or do you have questions about this procedure? Contact Santavicca Dental Professionals today.