Metal-Free Restorations – Lebanon, NH
A Restored Smile Without the Metal
Traditional fillings, crowns, and bridges are made out of metal. Gold, silver, amalgam, and numerous alloys are commonly used to repair teeth. While such materials are very strong, they do come with some disadvantages. That is why the team at Santavicca Dental Professionals is proud to be able to offer completely metal-free restorations to our patients. If you are interested in learning more about these restorations, read the information below. Then, when you are ready to schedule your restorative consultation, contact our friendly team.
What Are Metal-Free Restorations?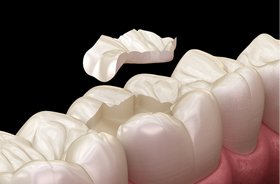 Metal-free restorations are dental restorations that do not contain any materials that are metallic in nature. Examples of metal-free restorations include:
100 percent porcelain crowns and bridges
Porcelain onlays and inlays
Composite resin dental fillings (which are otherwise known as white fillings)
How Do Metal-Free Restorations Work?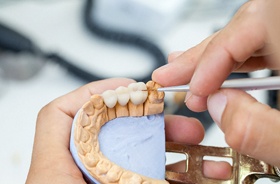 The process for metal-free restorations is similar in some ways to the process for placing metal restorations. For example, when placing a metal-free crown, we still must prepare the tooth, take an impression of it, and send that impression to a lab that will fabricate the crown. (However, in some cases, we can use our in-house CEREC technology to create metal-free crowns instead of partnering with a dental laboratory.) When we are placing a metal-free filling, we still must prepare the tooth and then insert the filling materials.
One big difference between the processes for metal vs metal-free restorations is shade selection. With metal restorations, the color of the teeth and the color of the metal are not factors in the restoration design process. With metal-free restorations, on the other hand, we have to carefully select a shade for the crown, bridge, or filling that will blend in well with the dentition around it.
Why Choose Metal-Free Restorations Over Traditional Restorations?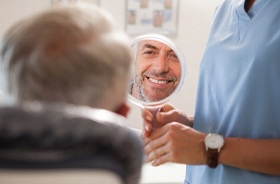 Metal-free restorations offer some significant advantages over their old-fashioned metal counterparts:
Metal-free restorations look so natural in the mouth that onlookers are highly unlikely to notice them.
Some patients have metal sensitivities or allergies, which are not an issue with metal-free restorations. Metal-free fillings are a favorite of patients who are concerned about the high concentration of mercury in traditional amalgam fillings.
Less temperature sensitivity. Metal-free restorations do not conduct temperatures as readily as metal ones, a fact that may help to reduce dental sensitivity.
Both metal and metal-free restorations are durable enough to stand the test of time.
Cost of Metal-Free Restorations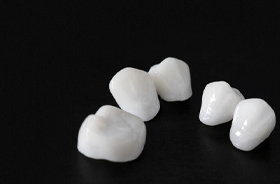 The cost of metal-free restorations is in the same general ballpark as the cost for metal restorations. Dental insurance is usually willing to cover at least half the cost metal-free restorations if they are deemed medically necessary. Our team will be sure to give you a candid estimate for the price of your procedure, and we will help you to explore financing options if you would like to break up the cost of your treatment into monthly installments. Metal-free dental restorations are a worthwhile investment that will protect your oral health and enable you to enjoy all the benefits of a natural-looking smile.