Dental Implant Placement – Lebanon, NH
Replace Missing Tooth Roots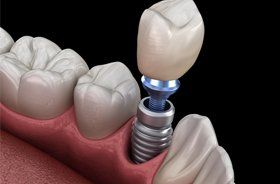 We often recommend that patients choose dental implants to replace their missing teeth because dental implants provide comprehensive tooth replacement. While restorations, (such as crowns, bridges, or dentures), replace the visible portion of the missing teeth, the implants that support the restorations act as substitute tooth roots. Dr. Gass, our in-house oral surgeon, has the skills and experience necessary to insert the implants into a patient's jawbone in a way that produces optimum results.
How the Surgery Works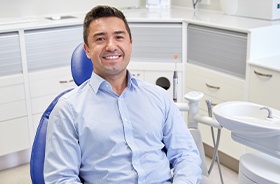 Prior to your surgery, Dr. Gass will carefully plan your procedure. He will create a strategy that allows him to place as few implants as possible while still providing adequate support for your implant-retained restoration. On the day of your procedure, our team will use a form of sedation to help you remain relaxed and calm while Dr. Gass works in your mouth. We offer multiple types of sedation, and the one that is most appropriate for you will depend on the extent of your surgery, your personal feelings toward the procedure, and your medical history.
After the sedation takes effect, Dr. Gass will create small incisions in your gums. Then, he will make space in the bone for the implants. After the implants are in place, he will close the gums so your body can begin the healing process.
After the Surgery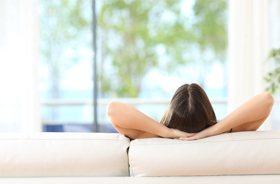 Some patients are feeling well enough to return to work or school the day after their surgery. However, you might find that it is best to take it easy for at least 48 hours. How long it will be before you can return to your normal routine will depend on the extent of your surgery and your overall health.
Here are some guidelines that will help your recovery go as smoothly as possible:
Take any painkillers or antibiotic medications as prescribed.
Do not smoke. Smoking severely slows down healing time and raises the risk of infection.
Ice the area for 10 minutes at a time, with 20-minute intervals between icing sessions. Doing so she mitigate swelling.
At first, stick to eating a liquid diet. Then, you can graduate to eating soft foods (any food that you can easily cut with the side of a fork). Most patients can return to their normal eating habits within a couple of weeks after the surgery. However, if your procedure was particularly complex or extensive, you may have to wait longer than that.
Maintain oral hygiene. During the first few days after your procedure, you should avoid touching the surgical site with a toothbrush. However, once the swelling and tenderness sufficiently subsides, you can begin gently brushing the area.
Avoid strenuous physical activity for at least 48 hours.
If you have any reasons for concern during your recovery (for example, if you are in a great deal of pain), call our team right away. After we assess the situation, we may be able to take remedial action that gets your recovery back on track.
After the soft tissue at the surgical site heals, your bone will still be working to create a strong bond with the implant. This process, called osseointegration, typically takes at least a few months. Following osseointegration, you will return to our office so we can begin the next phase of your dental implant treatment plan.