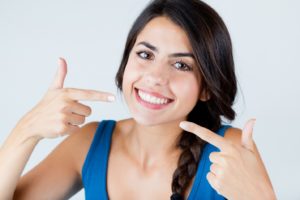 You looked forward to getting your braces removed for many months — perhaps even a few years. It is understandable if you are a bit disappointed when they come off and you notice that your teeth are somewhat discolored. This is a common problem that can happen due to a few reasons, including plaque accumulation, tartar, and normal staining. If you notice that your smile looks a little lackluster when you finish your orthodontic treatment, you might be thinking about getting Zoom teeth whitening after braces. Here are a few things to keep in mind as you strive for brighter teeth:
Teeth Tend to Be More Sensitive After Braces
Orthodontic treatment exposes your teeth to continuous force for months on end. After braces get taken off, it is normal to experience heightened dental sensitivity. Teeth whitening treatments may further increase that sensitivity, since they penetrate the tiny pores in your enamel to break up stains. To avoid the discomfort of highly sensitive teeth, it may be wise to wait a while before you get your smile whitened. Dentists often recommend that patients hold off on whitening for at least six months.
Safety Is as Important as Ever
Taking a few simple safety precautions is always good when you are striving to brighten your smile, but it may be especially important in the months after your braces are removed. The potential extra sensitivity of your teeth, combined with the chance that your gums may be a bit swollen, means you should take extra care. For example, you should not use any whitening products that are not approved by the American Dental Association. If you use any over the counter strips or trays, be sure they fit your teeth well. Otherwise, the whitening agent could irritate your sensitive gum tissue. Really, the best option for most people is to stick to a professional treatment that takes place under their dentist's supervision.
Your Teeth's Color May Improve Naturally
Braces' brackets are securely bonded to the teeth, so it is difficult if not impossible for saliva and oral hygiene products to reach the enamel directly beneath them. Once the braces are gone, your saliva will start to naturally wash away tiny food particles and bacteria that might be responsible for the uneven coloration of your teeth.
Plus, it will be simpler for you to maintain proper oral hygiene. You might be surprised by the improvements you notice as you diligently brush your teeth twice a day and floss once a day.
Do not worry if your teeth are a bit off-color after your braces are removed. With a bit of patience and your dentist's assistance, you can look forward to having a smile that is as bright as it is healthy.
Meet the Practice
The team of dentists and specialists at Santavicca Dental Professionals is proud to offer a broad range of treatments, including braces and Zoom teeth whitening. If you have questions about how to improve the health or appearance of your teeth, they would be pleased to talk with you. Contact us at 603-600-6398.