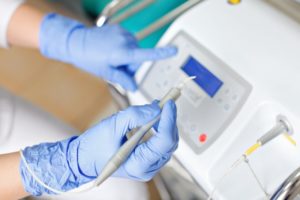 If you have an upcoming dental procedure, it is understandable if you are a little nervous about it. Fortunately, dentists do everything they can to promote patient comfort. Some practices even use a soft tissue dental laser in Lebanon. What exactly is a soft tissue laser, and how can it enhance your treatment experience? This blog post discusses the answers to those important questions.
What Is a Soft Tissue Laser?
A laser is a highly focused beam of light. There are different types of lasers used in dentistry, including hard tissue lasers, soft tissue lasers, and the lasers that are used for teeth whitening. These lasers may come from various brands and use slightly different technology to accomplish their purpose.
As their name implies, soft tissue lasers are designed specifically to be used on the soft tissues in the mouth, such as the gums. Dentists can use a soft tissue laser to replace a scalpel during various dental procedures, including gum recontouring, periodontal (gum) disease treatment, frenectomies, dental implant placement, and more.
Benefits of Laser Dentistry
A soft tissue laser provides numerous benefits, including:
Increased comfort. Lasers reduce discomfort during procedures. In fact, in some cases, they eliminate the need for local anesthesia.
Reduced bleeding. Lasers cauterize as they move, which means that patients may experience little to no bleeding. This can eliminate the need for sutures.
Precision. A laser is more precise than a scalpel, which gives dentists greater control over patient outcomes. The way lasers are designed also gives dentists a good field of view while they are working.
Reduced risk of infection. Dentists are careful to sterilize their scalpels and other instruments. However, a laser is even more sterile because it actually kills the bacteria it comes into contact with. That is one of the reasons why lasers are so valuable in treating gum disease.
Reduced recovery time. Patients who undergo laser procedures tend to recover more quickly than those who undergo procedures using traditional dental instruments. This occurs because lasers can promote tissue regeneration.
Less swelling. Lasers are so precise and minimally invasive that they often cause less swelling than regular dental tools.
Get Started with Soft Tissue Laser Dentistry
If you would like to find out what a soft tissue dental laser can do for you personally, visit a dentist who uses one. Most practices include information about their technology on their website. Learn what procedures they frequently perform with the laser, and feel free to ask any questions you might have about how the process works.
Soft tissue dental lasers are remarkable! They can help you commit to your treatment with confidence that you will enjoy a comfortable procedure and a shortened recovery period.
Meet the Practice
Dr. Vikram Shad and the other dental professionals in our practice have many years of combined experience. They often use laser therapy to treat gum disease and to perform other important procedures. To learn more about them and how they may be able to serve you, contact us at 603-600-6398.