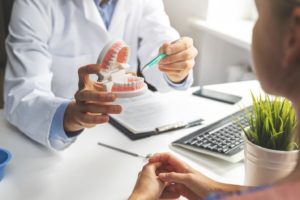 If you have lost one or more teeth, you may be thinking about getting dental implants to rebuild your lost dentition. That is a wise decision because dental implants are widely regarded as the gold standard of tooth replacement. However, you may have a long treatment journey ahead of you. You might even need to receive a bone graft in Lebanon. In this blog post, we will discuss what a bone graft is, the role a graft can play in the dental implant procedure, and some specific reasons why you might need one.
What Is a Bone Graft?
During a bone graft procedure, bone material is placed on the jawbone at the site where you will receive a dental implant. The material might come from a donor, or it may be synthetic. Eventually, your body will integrate the new material, and your jawbone will be larger and stronger as a result.
Some patients receive a minor bone graft on the same day they receive a dental implant in Lebanon. In other cases, a patient must wait a few months between their bone graft and their implant placement surgery. The details of your treatment plan will depend on your unique circumstances.
Reasons for Bone Grafts
It is vital that dental implants have an adequate amount of bone to support them. Otherwise, the risk of dental implant failure greatly increases.
There are various reasons why your jawbone might lack adequate volume to support a dental implant. The most common reason is a process called resorption. After you lose a tooth, your body immediately begins to recycle the portion of the jawbone that once supported it. In just one year, you might lose up to 25 percent of the bone at the site of a tooth extraction.
Gum disease is another common reason why the jawbone may deteriorate. Not only does this condition affect the soft gum tissue, but it also can cause serious damage to the underlying hard tissue. Your dental team will want to make sure you are free of active gum disease before you undergo a bone graft and subsequent dental implant placement.
Is a Bone Graft Always Necessary?
Bone grafts are quite common, but not every patient requires one before they can receive dental implants. For example, if you planned on getting an implant even before your natural tooth got extracted, your dentist may have taken steps to preserve the bone around the extraction site. There are also some specialized implant placement techniques, such as All-on-4, that can reduce the chance that a bone graft will be necessary.
If your dental team informs you that you need a bone graft before you get a dental implant, there is no reason to be nervous about your procedure. You can think of a bone graft as a steppingstone on your path to a healthy, renewed smile!
Meet the Practice
The team at Santavicca Dental Professionals are proud to offer start-to-finish dental implant treatment. We even have an on-staff oral surgeon who is able to perform bone grafts and other advanced, implant-related procedures. To learn more about us and how we may be able to serve you, contact us at 603-600-6398.