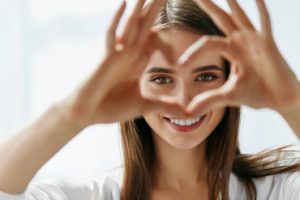 Heart disease is the top cause of death in the United States. In fact, it claims more than 600,000 lives each year! Since February is American Heart Month, you may be using this time to think about how you can adjust your eating and exercise habits to protect your heart. But did you know that the way you take care of your oral health can also have a bearing on heart health? In this post, we discuss how protecting your gums can be an important part of protecting your heart.
Gum Disease and Heart Disease Are Linked
A 2016 study by the Karolinska University Hospital in Sweden found that gum disease can increase the risk of a first heart attack by 28 percent. Separate studies have also found a strong correlation between gum disease and heart problems. The prevailing theory about the reason for the correlation between the conditions has to do with inflammation. Gum disease increases the body's burden of inflammation. Chronic inflammation is a major contributor to atherosclerosis (fatty plaque deposits on the artery walls).
Preventing Gum Disease
Since preventing gum disease in Lebanon may reduce your risk of heart problems, you should do everything within your power to care for your gums. Here are a few tips to help you safeguard this precious pink tissue:
Make oral hygiene a priority. Twice-daily brushing and once-daily flossing are essential. You might also find it beneficial to rinse with an antibacterial mouthwash.
Eat a balanced diet. Foods and beverages like green tea, onions, and crunchy fruits and vegetables all have gum health benefits. Try to stay away from sugary and acidic foods.
Visit your dentist regularly. Regular checkups are a key to keeping your oral health on track. If your dentist notices any cause for concern, they may be able to correct such issues before they become serious.
Avoid tobacco. Both cigarettes and smokeless tobacco are major risk factors for gum disease. They are also very bad for heart health.
Fighting Gum Disease
Gum disease is quite common. According to some estimates, roughly half of the adults in the U.S. have some form of it. If you are among the many individuals who have developed gum problems, it is vital that you work with your dentist to manage your condition. Periodontal therapy, which usually consists of a deep cleaning of the mouth, can get rid of harmful bacteria and give your gums a chance to heal. In severe cases of gum disease, more extensive treatment may be necessary.
There is a link between gum health and heart health. Protecting your oral well-being may play a big role in helping your heart to thrive.
About the Author
Dr. Angela Santavicca is an experienced general dentist in Lebanon, NH. She cares deeply about her patients' oral and overall health, which is why she and the team at our practice are proud to provide multiple types of periodontal therapy. To learn more about Dr. Santavicca, our practice, or how we can help you fight gum disease, contact us at 603-643-4142.