Anesthesiologist – Lebanon, NH
Enjoy Stress-Free Visits with Adrienne Williams, MD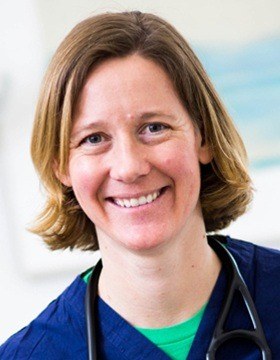 Dr. Adrienne P. Williams is a Board Certified Anesthesiologist and Pediatric Anesthesiologist. She is the founder of Anesthesia Consultants of the Upper Valley, PLLC, an anesthesia provider created to bring professional anesthesiology services to the offices of local healthcare practitioners. Following the completion of her medical training at Dartmouth, Dr. Williams was an attending physician for ten years in the Department of Anesthesiology at Dartmouth-Hitchcock Medical Center in Lebanon, NH.
Dr. Williams' Role within the Dental Office
Dr. Williams' goal as an anesthesiologist is to provide personalized, patient-centered care while offering support and education to each of her clients. She established Anesthesia Consultants of the Upper Valley in order to re-center her practice around bringing more meaningful, one-on-one service to patients. She is thrilled to be partnering with Dr. Santavicca and her team to offer the option of safe, comfortable, office-based anesthesia as part of your dental care.
Education & Medical Training
Originally from California, Dr. Williams moved to the Upper Valley when she started medical school and has stayed ever since. After graduating at the top of her class at UC Davis, Dr. Williams attended Dartmouth College's Geisel School of Medicine, where she was once again the class valedictorian. Dr. Williams completed her residency at Dartmouth-Hitchcock Medical Center in 2007, where she was top resident, she received the Dripps Award for Outstanding Graduating Resident in Anesthesiology.
Life Away from the Dental Office
Dr. Williams lives in Norwich, VT with her partner (a fellow anesthesiologist) and her expanding family of Labrador retrievers. In her free time, Dr. Williams enjoys a variety of outdoor activities, including rowing, cycling, hiking, and both cross-country and downhill skiing. She also loves to travel to warm and sunny destinations. So far, she's visited New Zealand, Australia, South America, Central America, Southeast Asia, and Africa, exploring each location for several weeks at a time.